Step 1: Buying your first cryptocurrency
Updated by Andrew Hall
Everbloom is an Ethereum-based exchange meaning you'll need to buy Ether in order to trade here. Acquiring Ethereum is possible on various "on-ramp" exchanges and services which allow for customers to turn their fiat into crypto. The two most commonly used are Coinbase and Gemini, but your options will vary based on where you live. 
For the sake of consistency in this guide, we refer to fiat currency as USD since Everbloom is a US-based exchange. 
Buying on Coinbase
Before you can begin buying crypto, you need to sign up for a Coinbase account. Once your account has been verified and your bank account has been connected, you can begin buying cryptocurrencies.
If you are planning on buying Ethereum but aren't set on the market price, you should deposit USD funds into your Coinbase USD Wallet (If you want to just buy the current market price, skip to step 4 below.) This can be done by clicking on the 'Accounts' tab and then the 'Deposit' button both highlighted in red below. 


After clicking on deposit, you will be given two options for depositing USD:

Bank Deposit: Depositing to your Coinbase USD Wallet is free; however, it will take 4-5 business days for the funds to arrive. 
Wire Transfer: Depending on your bank's wire fees, you may or may not be charged a wire fee and your funds will be made available on Coinbase to you that same day or one day after initiating the wire. 

Once you have money in your Coinbase USD Wallet (or you skipped down to this step because you are satisfied with the market price of ETH), click on the 'Buy/Sell' tab highlighted in red. Then, select 'Ethereum' as you will be purchasing ETH to trade on Everbloom.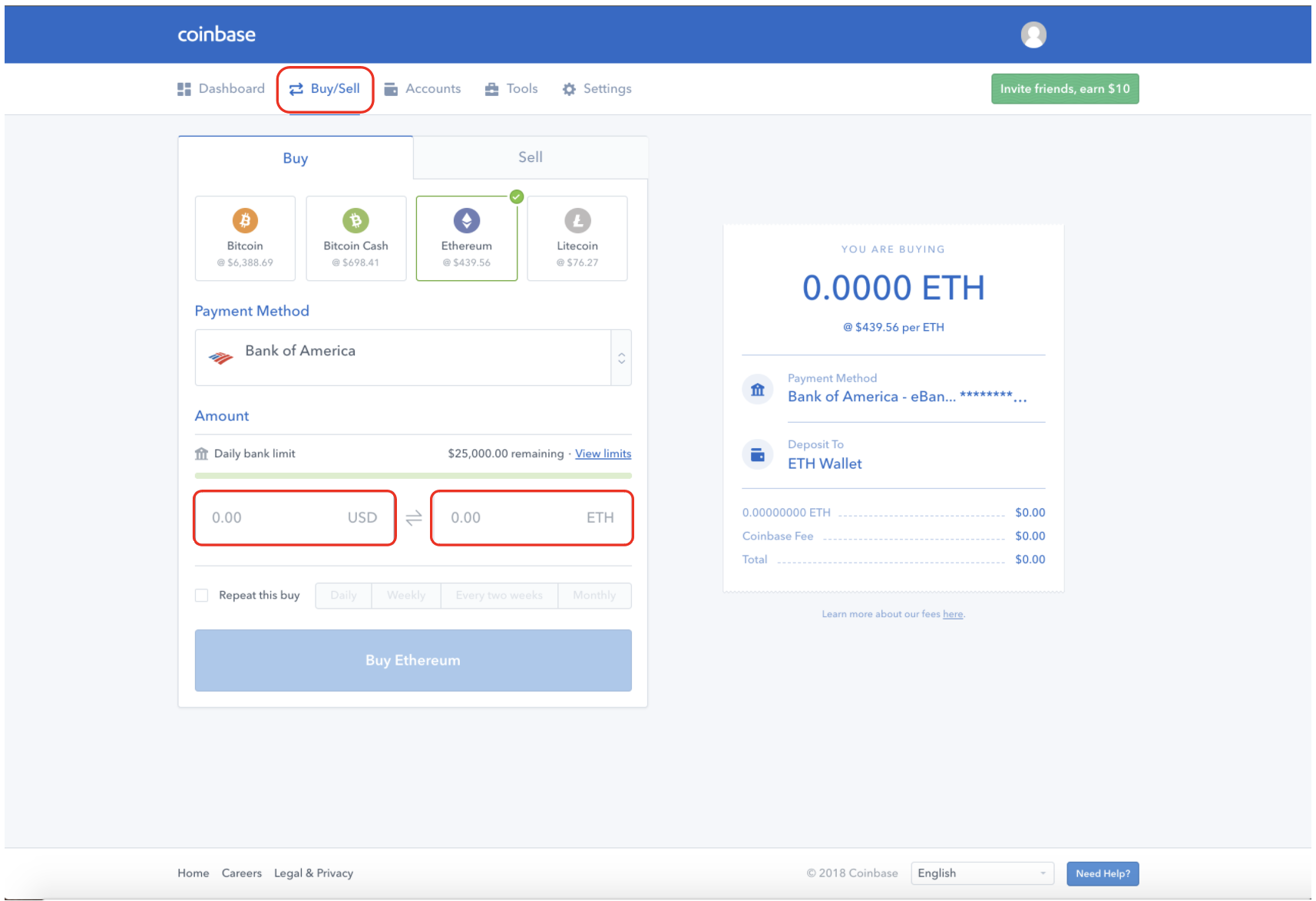 Buying on Gemini 

Open an account on Gemini's website and connect your bank account. 
hover over the 'TRANSFER FUNDS' tab. Then, hover over the 'Deposit Into Exchange' tab where you will be faced with two options for depositing fiat into the exchange:

USD (Bank Transfer): Bank transfers will always be free; however, there are a few caveats. You will be able to begin trading immediately; but, it takes 4-5 business days for your funds to fully clear. There are also limits for daily and month deposits which increase over time. 
USD (Wire Transfer): Gemini doesn't set any limits on the amount you can deposit, and funds typically fully clear the same day ( or next day at the latest). The caveat here is that depending on the bank you use, you may be subject to wire transfer fees. 



Once your fiat deposit has been credited for trading (which can be confirmed by the number printed below the  'USD Available to Trade' ), hover over the 'BUY' tab and click on 'ETHUSD' to begin buying Ethereum. 

                                                                                                                                             
Select the order type you wish to use. If you want to get your order filled instantly at the market price, use the 'Market' order and enter in the amount of USD you wish to spend from your 'USD Available to Trade'. If you wish to use another order type, you can learn more about those options on Gemini's marketplace page. 


Once you've exchanged your fiat for Ethereum, head over to Step 2  to create a wallet compatible with Everbloom exchange.